Investing in public education
To support the important role played by public education in ensuring fair, equitable and high-quality education for all, you can donate to the Public Education Foundation.  The Foundation is committed to building long-term partnerships with business and philanthropic organisations to achieve the best results for educational goals. We work with our partners to create a scholarship package for particular areas of disadvantage and/or help students pursue excellence in particular curriculum areas.
Donations can be made online via Give Now.  If you would like to make a donation via bank transfer, please email us for our bank details. Cheques can be posted to 105 Phillip Street, Parramatta NSW 2150.  All donations above $2 are tax deductible.
Your generosity will provide students with opportunities that make a real difference to their education and their lives.
Save
Tax Appeal 2021: Stories of Dorothy, Zainab, Jennifer and Carlos
Dear Friend,
In my line of work, I meet so many people who have dedicated their lives to education and are incredibly passionate about teaching and learning. They strongly believe in the power of education in transforming lives.
There are many people who acknowledge that they're where they are now because they had teachers who
cared, teachers who believed in them when no one did, and a public school environment that accepted them as they are, regardless of their background and circumstances.
I'd like to share the stories of two women whose passion has served as an inspiration to me and our PEF team.
Meet Dorothy Hoddinott AO She's now retired having served as a teacher and principal for over 50 years. Her deep concern for the welfare of the refugee students at Holroyd High School in Sydney's West while she was principal led her to establish the "Friends of Zainab" refugee scholarship fund. Refugees accounted for over 60% of her school population.
"Education is a way to give hope to students who have lost everything," she says…
Dorothy explained this over coffee as she was recounting what prompted her to start raising funds for the refugees in her school. She told the story of Zainab Kaabi, who came to her office to let her know that she had to leave school because she had turned 18 and would no longer be eligible for welfare payments under the conditions of her temporary protection visa.
Dorothy would have none of it! She found ways to raise the funds to keep Zainab in school and later university. Zainab went on to complete a Bachelor of Medical Sciences degree at Macquarie University and a Bachelor of Pharmacy at The University of Sydney.
It is hard to imagine the challenges she had to overcome in her refugee journey; the persecution of her family, discrimination, denial of education, flight, then a new country, a new culture, a new language, the uncertainty of life on a temporary protection visa.
Save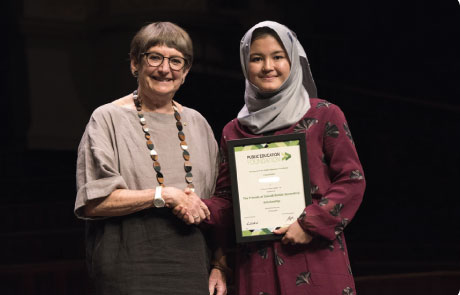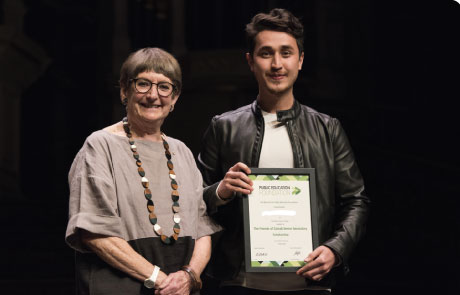 Friends of Zainab refugee scholarship fund
"Friends of Zainab" is a humanitarian scholarship program which raises money through donations to help students of refugee background. Its aim is to ensure that refugee students can complete Year 12 and are helped in their transition to further education.
Dorothy explained that refugee students carry the burden of past trauma, something they have experienced at first hand. Schools in Australia have become the starting point of a new and more hopeful life for these young people. Education, she says, is the way forward, the real circuit breaker for disadvantaged young people.
Dorothy concludes her story by saying that she has never doubted the transformational capacity of education. "That first child to complete her schooling takes the entire family on that educational journey… it carries everyone along." Many refugee students are the first in their family to complete Year 12 and have the opportunity to go to university.
Meet Jennifer Robinson. She understands that transformational power of education very well. She is an international human rights barrister and former Rhodes scholar, who has appeared before the International Court of Justice and courts around the world. She is also a very proud product of Berry Public School and Bomaderry High School on the NSW South Coast.
Growing up, she didn't know a lawyer or see examples of people from her school who had become lawyers. At law school and at Oxford, Jennifer observed peers who had access to privileged networks and opportunities – judges, lawyers, politicians – through the private schools they attended.
Jennifer approached the Public Education Foundation to see if, together, we could develop a program to achieve this – and not just at her school, but around the country. We have worked with Jennifer over the last 12 months to design and deliver the Acacia Program Scholarship.
Jennifer wanted to find ways to support kids from her school. But she hoped it could be something bigger: to benefit public school students around the country and allow more Australians the opportunity to give back to the public education system that gave us all so much.
Her main motivation was to inspire public school students to believe that "Anything is possible!". She wants to inspire and encourage Australian students in public schools to have the belief they can achieve whatever they set their mind to.
Acacia scholarships are designed to be awarded to students who combine high potential with financial need.
Everyone has a right to quality education regardless of their background. Sadly, this is not true for over 1.2 million children and young people in Australia who experience barriers to accessing education. One out of six Australian children lives in poverty.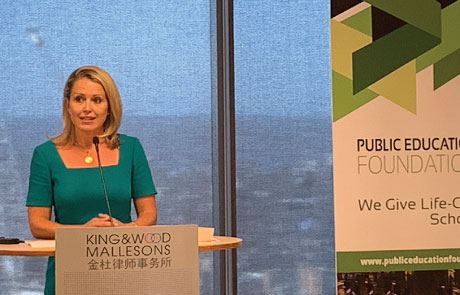 JENNIFER ROBINSON
Acacia Program Scholarship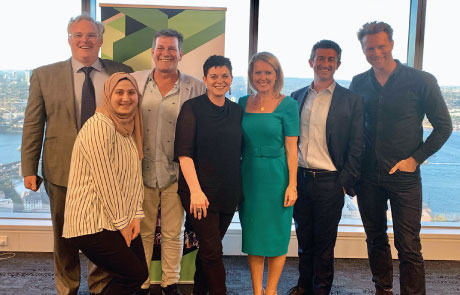 "ANYTHING IS POSSIBLE"
Acacia Program Scholarship
You may already be aware that public education is not entirely free. Students need books, laptops, access to the Internet, school uniform, school shoes, materials for school projects and fees for camps and excursions.
With the changes in Jobkeeper and reduced Jobseeker, we at PEF are expecting many more applications for scholarships for the 2022 school year. Applications will open in May for tertiary scholarships, while those for our primary and secondary scholarships will open in June.
We do need support. The needs are immense, and we can only address these needs throughthe generosity of our donors.
Everyone dreams of a better future regardless of background, ethnicity, and socio-economic status. For all our scholarship applicants, the major obstacle that stands between access to education and their dream of a better future is resources: having the financial resources to fully participate in school.
The average scholarship amount per student is just $1,500 a year – but that $1,500 can transform a life.
Our focus is on removing the barriers to achievement created by social and economic disadvantage. Research shows that even small interventions such as providing school books, money for lunch, or mentoring programs, have life-changing effects. Something as simple as wearing a new uniform and school shoes can do wonders for a child's self-esteem.
Our goal is to raise $150,000 so we can give 100 more life-changing scholarships to students. Your generosity will go far in helping children with big dreams and a bright future ahead of them.
Thank you so much!
The Public Education Foundation is grateful to our supporters and donors who are committed to help overcome disadvantage. They know that the most effective way of doing this is through education and capacity building in our public schools.

David Hetherington
Executive Director
Public Education Foundation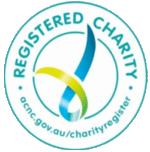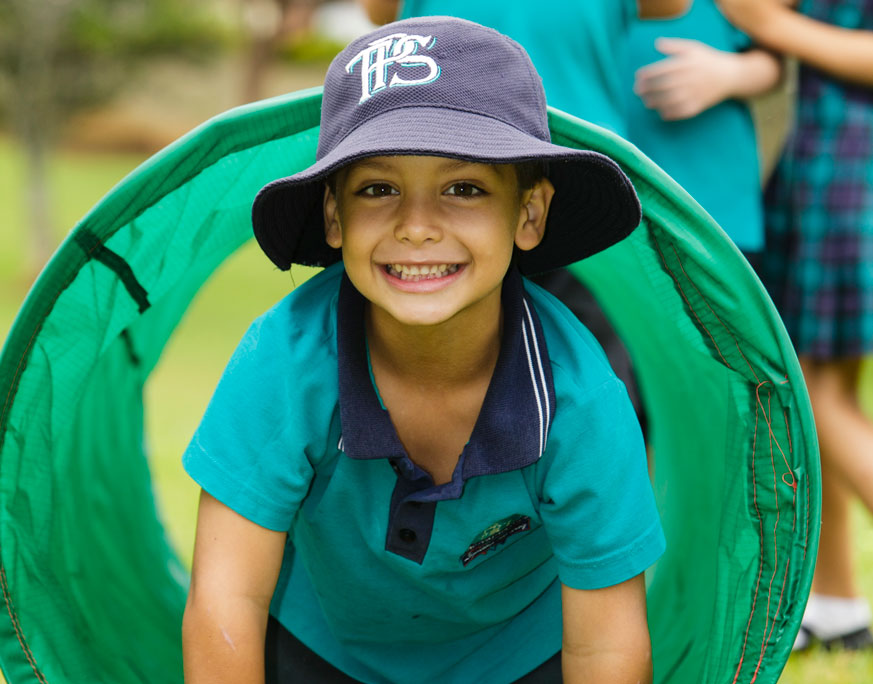 Bequests
Leaving the next generation a good education is one of the best gifts you can make.  You can make a lasting impact on the lives of students by including a donation to the Public Education Foundation in your will. We have guidelines on how you can do this.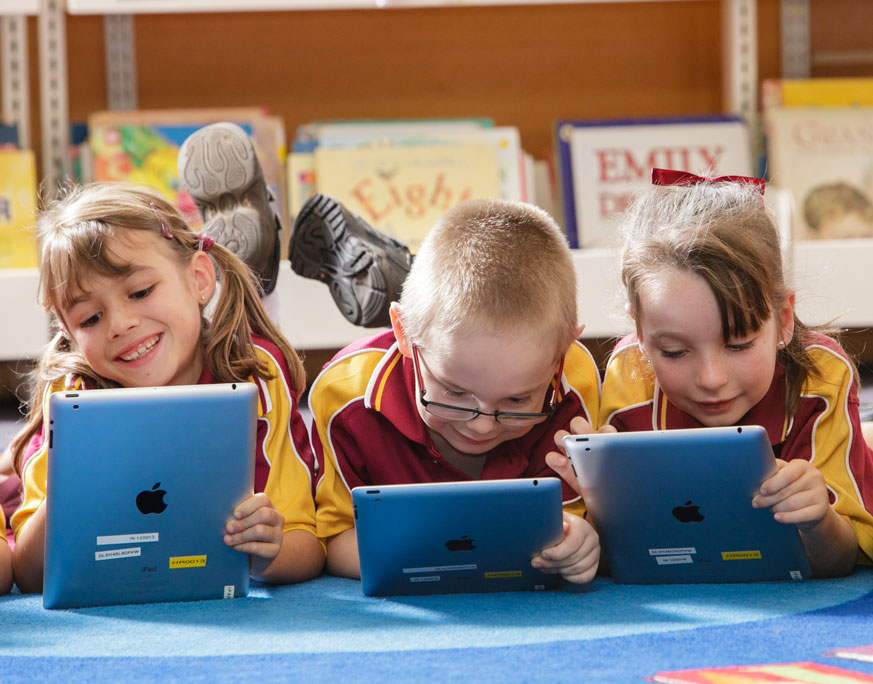 Workplace Giving
If you work for the NSW Department of Education and Communities, you can donate to the Public Education Foundation through regular payroll deductions.
If you work elsewhere, we can help you sent up a "Workplace Giving" scheme. All donations above $2 are tax deductible.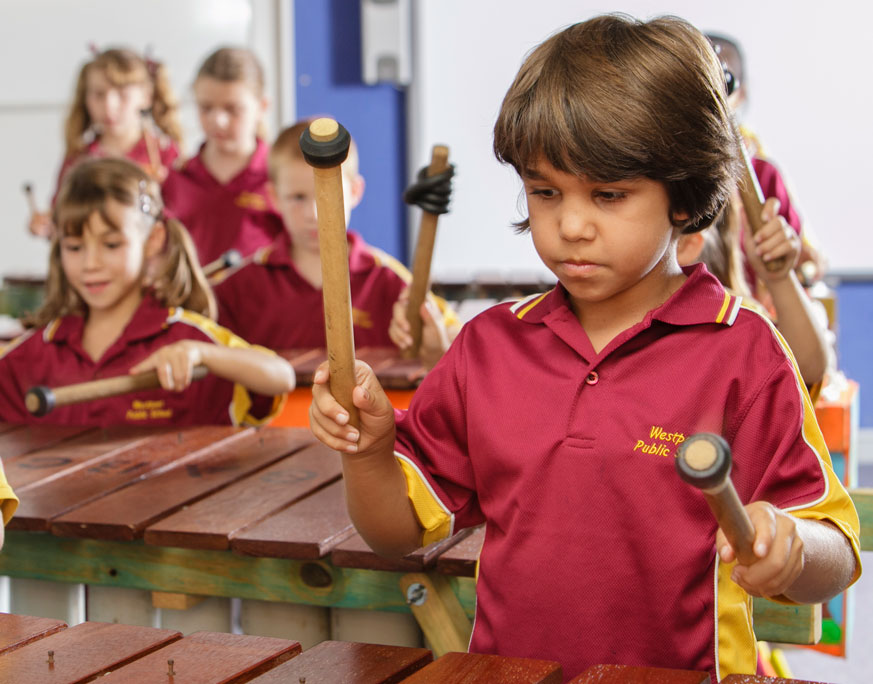 Fundraising
There are many ways in which you can fundraise for the Public Education Foundation. You can host your own event, participate in existing events or volunteer at an event.  You may wish to raise funds for the Public Education Foundation in general, or for a specific scholarship or area of interest.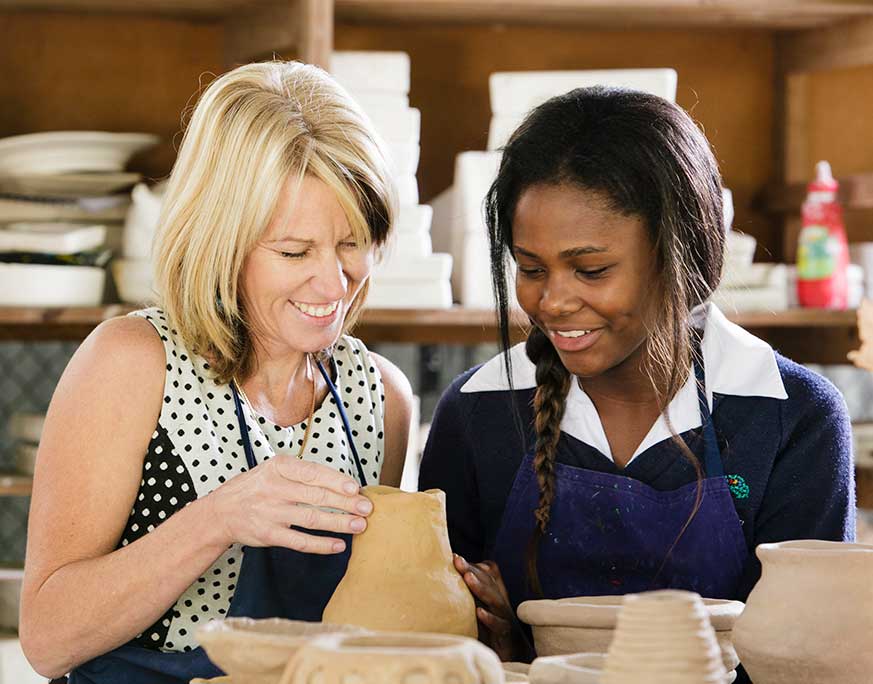 Volunteering
The Public Education Foundation relies on the help of our supporters and volunteers.  If you would like to donate your expertise and professional skills to public education, advocate for public education, organise a fundraising event and/or become a Public Education Foundation partner, let us know.