The Australian. Dec 3, 2016. Stephanie Baloch
Nineteen-year-old Ginan Issa's dream was always to study law to give her "the ability to speak up for people, especially people who don't really always have a say".
Growing up in a single-parent family in public housing in Penrith in Sydney's west, Issa overcame the obstacle of socioeconomic disadvantage to top all her high school subjects as well as serve as school captain. Now, helped by the non-profit Public Education Foundation, she is the first person in her family to go to university.
Issa is on the way to fulfilling her dream, and future leadership potential, studying in her first year of a five-year law and psychology degree at the University of NSW.
She was awarded the Susan and Isaac Wakil Scholarship this year, worth $9000. The foundation's work, she says, has "above all empowered me".
"The teachers you come across through the foundation are very understanding of challenges you might face, so with this added support they have really inspired me to achieve my goals and not to ­really think about the barriers you might face along the way."
David Hetherington, former head of progressive think tank Per Capita, took over the helm at the foundation at the end of October as its executive director, replacing former NSW premier Nathan Rees, who stepped down earlier this year.
Hetherington says part of his job as a champion of the sector will be "making the case for a high-performing public education sector and its importance to Australia's long-term prosperity".
"It's only through equity in education that we can excel as a nation," Hetherington says.
He comes to the role with extensive public policy and private sector experience, and previously has worked at the Institute for Public Policy Research in London and LEK Consulting, a global strategy consulting firm.
Launched in March 2008, the Public Education Foundation works in collaboration with schools, communities, business and government to promote equity in education and provides scholarships to help overcome the barriers to achievement created by social and economic disadvantage. These range from students in public education to providing professional learning and leadership scholarships for teachers and principals.
The support includes the Walter and Eliza Hall Trust Opportunity Scholarship, which helps students with a physical disability move from high school to tertiary study, while the Trades and Technology Opportunity Scholarship gives financial support through years 11 and 12 to a student interested in a career in a trade or technology. The foundation's schol­arships are supported by individuals wishing to make a difference, by family foundations, larger charitable foundations and by organisations keen to invest in the public education system.
The Harvard Club of Australia Education Scholarship provides scholarships for principals from government primary and secondary schools to undertake a short professional education program at the Harvard Graduate School of Education in the US.
Clayton Reedie, principal of Dalmeny Public School in Prestons, near Liverpool in Sydney's west, strengthened his skills by travelling to Boston for a week in July on the scholarship to take part in a leadership course with principals from around the world.
There is enormous goodwill for public education in the community, Hetherington says, but one of his hopes is to slow the flight of students from aspirational families to private schools by tackling the Hollywood-style stigma around government-run schools.
He is aware of the existence of a "kind of social pressure to send kids out of the public system and into the non-government system because that's where aspirational success is seen as lying".
"I'd really push back against that," he tells Weekend Professional, pointing to the national literacy and numeracy results. "Public schools are very high performing and … this kind of drift to the non-government sector hasn't been a guarantee of success in the international rankings.
"It's not an automatic axiom that having more money in a very large non-government sector, which is what Australia has by international standards, is a guarantee of success."
A backer of funding the full six years of the Gonski reforms, Hetherington contends too much money is being spent at the top rather than at the bottom, where the potential for improvement is huge.
Earlier this year Hetherington argued that funnelling vast sums to private schools had been a "50-year, slow-moving policy calamity" and the public school system had such "a bad reputation that middle-class parents bust a gut to save to remove their kids to the private school sector".
He says in parents' minds the system comes to represent the Hollywood portrayal of Stand and Deliver "or other films where an overwrought school system can only deliver through an exceptional, maverick teacher working against enormous odds".
Hetherington — who attended a public primary school, won a scholarship to the elite Sydney Grammar school and finished high school in an international school in The Philippines — says Australia needs to ensure schools with the greatest need, regardless of which sector they are in, are funded adequately.
Inheriting the reins of a successful foundation, he wants to expand its reach and influence, looking at other strategic opportunities in the public education space including the potential to expand the scholarships.
"I think it's interesting to think through what are the other things we could be doing to make those opportunities more widely available to both students, high potential students in the public system, but also teachers and principals.
"Rather than being able to send a small number of principals to Harvard every year, how might we expand that exposure across a wider group of principals and potentially teachers; what are the other areas of achievement that we could look to provide opportunities for students?" he says.
If the foundation does its job well, Hetherington says, it will be about to deliver "opportunity and change to many, many lives for people who work and study" in public education.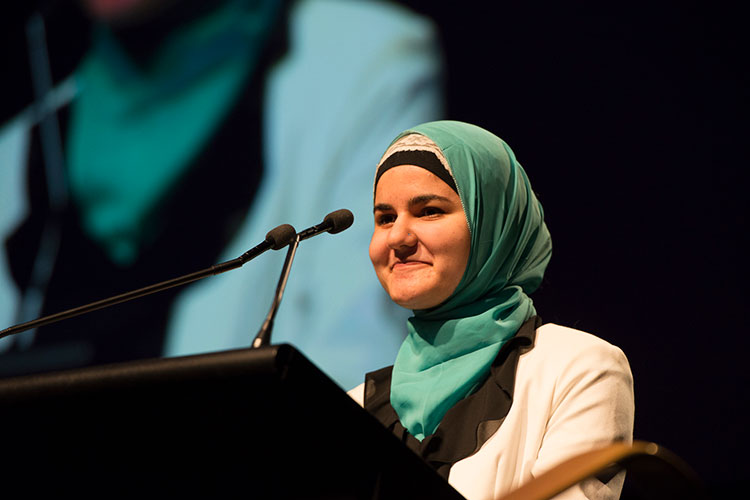 Ginan Issa caption.
Photo: Photographer Credit